Arda Marred Update: Base Skill Value, Skills table, Personality Attributes
by Ardamir —
published

Jun 21, 2012 12:25 AM,
last modified

Aug 02, 2015 08:55 PM
Base Skill Value, Skills table, Personality Attributes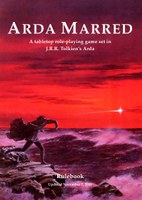 We decided to change how Base Skill Values are determined; instead of looking up in a non-linear table, you now simply divide the Attribute Value by 2 and round down, so it probably goes a bit quicker. This may allow us later to easily change Skills so that they are based on more than one Attribute as well.

We also added an explanation for how to use the Skills table in the Skills chapter, and removed the Skill Descriptions section so that everything in it is now directly in the Skills chapter.

We also added a few abbreviations for Personality Attributes in various parts of the Rulebook.