Arda Marred
by Ardamir —
published

May 27, 2012 05:35 AM,
last modified

Aug 02, 2015 08:55 PM
A tabletop role-playing game set in J.R.R. Tolkien's Arda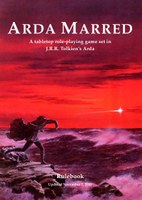 Hullo, friends of roleplaying in J.R.R. Tolkien's Arda.

The One Ring was released last year, so the situation for Arda table-top gaming looks brighter than before. But the situation is even better than that; there are also home-made systems, such as the one my co-designer and I have been working on and playing for some years now: our own Arda-based table-top RPG, Arda Marred. We would like to make the community more aware of our game now.

Our game is based indirectly on Basic Role-Playing, so its most important features are Attributes and Skills, and therefore it is a so called "level-less" system. We are both Tolkien "purists", so we have strived to design it to suit Tolkien's version, the true version, of Middle-earth and Arda as faithfully as possible. Of course, gamers may decide themselves how they play in a world based on Tolkien's writings, but the "hard-coded", very carefully designed Ardaic features of our game rules provide a strong foundation for gamers who care about experiencing as closely as possible the world of Arda that Tolkien described.

Although we have played it, our game is still under development and it may be that due to its nature and the fact that you can always get new insights about Tolkien's writings, it will never really reach a completely "finished" status, but we feel that there is no reason to believe that our game and other home-made systems are necessarily inferior to the commercial games; in fact we think that the basic concepts of our game, its features, our principles and goals concerning it and the flexibility and freedom of a home-made system provide all possibilities for quality.
The game's official website, where the game materials can be downloaded, is http://ardamarred.merp.com/. News updates about the game will also be posted here at Merp.com, as well as on the game's Facebook page.