Video Review The One Ring RPG & Adventures in Wilderland Supplement
by merpadmin —
published

Sep 12, 2012 04:50 PM,
last modified

Aug 10, 2018 09:00 AM
Video Review The One Ring RPG & Adventures in Wilderland Supplement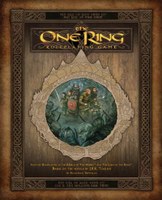 Video on Youtube here:
http://www.youtube.com/watch?v=eiwNjnYMaM4
http://www.middle-earthtalk.com
Music by Rehtaeh
http://www.rehtaehmusic.com
Hawke discusses:
Neil Stephenson's REAMDE mentioning Tolkien and RPG's and MMORPG
Paper on Tolkien and Trees, read at U.K. Tolkien Society 2011 and Tolkien Moot 2011.
TOR RPG The One Ring Role-playing Game new adventure book: Tales from Wilderland
More on the TOR RPG boxed set and special modification to hold the dice tray better.
Homemade GM screen for TOR RPG while waiting for Cubicle 7's Narrator screen.
The Hobbit Movie release party at Merlyn's Sunday, December 16th, 2:00 pm to close will be broadcast live too. Includes many sessions of TOR RPG gaming.