Upcoming Episode 49 of Middle-earth Talk Show - July 22nd
by merpadmin —
published

Jul 22, 2012 05:00 PM,
last modified

Oct 11, 2015 03:55 PM
Michael Martinez and Hawke planning to meet once again for a live broadcast after a long hiatus...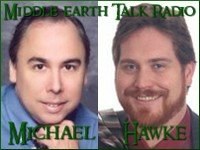 http://middle-earthtalk.com/news/upcoming-episode-49
Meeting online, with (hopefully) a live simulcast broadcast via Google+ and Youtube channel, this Wednesday, July 22nd, 7:00 pm Pacific (10:00 pm Eastern).
This was rescheduled from the original July 10th date.
See you online!