Due to Massive Power Outage, IRC Down since Tuesday Nov 17
by merpadmin —
published

Nov 23, 2015 12:30 PM,
last modified

Nov 23, 2015 12:28 PM
While the website and email servers are at a nice colo, the Internet Relay Chat (IRC) was still running on the old server at a house. That city has been without power or Internet since November 17th, 2015.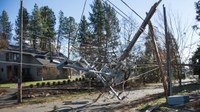 It is unknown how much longer it will be offline. If power not up by Tomorrow, will start trying to setup new IRC instance on Colo servers and move DNS over. Never expected such a long outage. Sorry about the prolonged outage folks!